Head Coach and GM – Jeff Zehr
Email: jeff@londonlakers.ca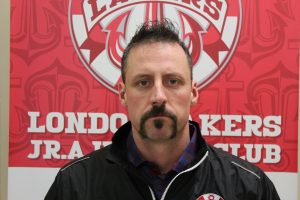 A native of Tavistock, ON, and currently residing in Stratford, ON, is the founder of 54 Hockey Inc (54). Jeff's competitive drive and extensive experience as both a player and a coach in many leagues in Canada and the United States prompted him to start 54 with the goal of helping young players reach higher levels of hockey.
After being drafted by the Windsor Spitfires in the 1st round of the 1995 OHL draft, Jeff went on to spend parts of 3 seasons playing for the Spitfires. During his time in Windsor, Jeff was selected in the 2nd round, 31st overall by the NHL's New York Islanders in 1997. Zehr was traded to the Erie Otters where he played in parts of two seasons before wrapping up his junior career with the Sarnia Sting playing under Mark Hunter.
The next season, Jeff joined the AHL's Providence Bruins before making his NHL debut with the Boston Bruins that same year.
Jeff went on to play in the ECHL for many years and in many locations including: Greenville, Cincinnati, Greensboro, Columbus, and Peoria. He then joined the Port Huron Icehawks of the IHL and finally the Flint Generals where in his last year of playing, he filled the role of a player/coach. He served as the PHPA (Professional Hockey Players Association) Team Player Representative from 2002-2004 and played an essential role in Collective Bargain Agreement for Semi-Pro Hockey. He has been an active member of the NHL Alumni since 1999.
Currently, Jeff serves as the head coach of the Junior A London Lakers (where he was named to the GMHL All Star Coaching Staff in 2016-2017) and runs professional free agent camps, teaches private lessons, and skills camps for hockey players in Ontario and across the globe. Jeff provided private and group lessons with Powertech founder Andy Paquette for number of years and his list of pupils that went on to be 1st round OHL and NHL Draft picks include: Aaron Ekblad (FLA), Jared McCann(FLA), Matt Puempel (NYR), Zack Kassian (EDM).
Business Manager and Director of Branding & Communication – Paul Costa 
Email: paulc@londonlakers.ca
Assistant Coach – Bob Langdon 
Email: bob@londonlakers.ca
Bob has coached at Jr level before with the Woodstock Navy Vets Jr C.
Mr. Langdon also had a stellar refereeing career, highlighted by officiating in the NHL!
GM Jeff Zehr adds " Bob, is a workhorse, he's very hungry to Coach again at Jr level, he understands the business and the game from all sides"
Officiating Experience 1992-2015
National Hockey League
America Hockey League
International Hockey League
United Hockey League
Colonial Hockey League
Ontario Hockey League
Central Hockey League
East Coast Hockey League
All American Hockey League
Danish Odsett Ligaen
Hockey Operations Experience
Commissioner- All American Hockey League
Director of Officiating-All American Hockey League
Coaching Experience
Woodstock Navy Vets Jr C
Woodstock Minor Hockey
I have also instructed Power skating and off ice training.
Playing Experience
Tillsonburg Titans JrB
Aylmer Aces Jr B
Aylmer Hornets Sr A
Oxford Blues SrA
Strength, Conditioning & Nutrition Coach – Davor Cvijic
Skills Coach – Andy Paquette
Goalie Coach – COMING SOON
For over twenty years, Doug Rome has successfully worked with various hockey associations, analyzing and providing specialized and comprehensive training to goaltenders at all levels and all age groups.  Throughout these twenty years, Doug has become a highly respected and much sought after goalie coach.  In 2013 he launched Goalies by Doug to best meet the demand for his progressive coaching style.
US Scout – Dominic J. Guardino
As a certified USA Hockey Coach, Dominic has spent the last 5 years working to develop youth hockey players in Florida beginning with mite aged players, laying the foundation for his players to advance and succeed at each level of hockey. Currently serving as the General Manager of the Florida Ice Pirates Hockey Club, Dominic focuses on developing the best tournament teams possible to travel throughout North America.
As a four-sport athlete himself, Dominic brings forth an open and easy communication style of coaching to the forefront. As a former United States Marine, he instills the discipline that his players need to be successful on and off the ice. Dominic attended the University of Southern California where he was a member of the Sigma Alpha Mu Fraternity and serves on various youth hockey, civil, veteran and charitable organizations.
Scout – Dan Martel
I've been involved with hockey my whole life I was a player, coach and scout I coached in the Sault for 6 years claiming to Northern Ontario Championships. One was unbeaten and included Toronto Maple Leafs GM Kyle Dubas. I've had the pleasure to scout the past few years in the NOJHL were I made some good connections. I'm happy to be joining the London Lakers organization as a scout. I feel this team is like a family and surrounds the players with Top level coaching to help players grow as players Thank you Jeff for the opportunity and letting me join your family.
Ontario Scout – Sebastian Jackson
Sebastian was born in Chatham and has spent time all around Canada and the USA, currently residing in Owen Sound with his wife and soon to be daughter.
Sebastian has an extensive hockey background that includes working as a social media director, a sales and sponsorship coordinator and a trainer for several different organizations.
Currently on his own time he work as a player advisor.
Sebastian is looking forward to helping scout, recruit, build, develop and bring championships to the city of London. He is very excited to develop his skills in the hockey world under the guidance of former Boston Bruin Jeff Zehr.
Western Canada Scout – Jon Mirasty 
Mirasty is a Cree native Canadian who played in multiple professional leagues including the WHL, KHL, and AHL. Nasty, nicknamed by both teammates and fans, finished the 2010-11 regular season with the Fort Wayne Komets of the ECHL and the spent two seasons in the KHL. Mirasty played for the Syracuse Crunch of the AHL, a minor league affiliate of the Colombus Blue Jackets, and dressed in a number of NHL exhibition games for Columbus. Mirasty finished his playing career for the Sore-Tracy Blackhawks of the LNAH.